Before You Start
NDI is a video transport technology created by Newtek. It's an efficient way to stream high definition video over a network between computers, mobile devices and other compatible hardware. It performs best over wired network connections, but can work wirelessly too with some increased latency.
Newtek provide some very useful NDI software utilities in a free package called NDI Tools. It's a good idea to download and install these tools as you start exploring how you might use NDI. Please visit https://www.ndi.tv/tools/ to get the latest package. In particular the NDI Studio Monitor software is a very handy tool to help you monitor the NDI outputs coming from ZionWorx (or any other software/hardware).
Controlling the NDI Outputs
Each of the live NDI outputs can be turned on/off independently using simple buttons in the ribbon bar. These buttons toggle their state as they are repeatedly pressed. Note that you should only turn on the NDI outputs you need since they will make the app work harder and use more of your PC's resources.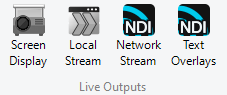 The available NDI outputs are actually 4 NDI sources as you can see below in the 'NDI Studio Monitor' app.
The Network Stream is the full presentation output as one source named ZionWorx Network Stream. It matches the resolution of the Screen Display output. This source can be used to transfer the complete live output of ZionWorx over the network to another PC or compatible device for display.


​

The Text Overlays are split into 3 sources, separating out the Title, Body (lyrics) and Copyright text, and they are named as follows:
ZionWorx Text Body
ZionWorx Text Copyright
ZionWorx Text Title
These sources include an alpha channel and so can be composited within scenes in other streaming software such as OBS or vMIx. Since these sources only contain text, they are only updated when presenting themed textual items e.g. Songs, Bible readings or Quick Slides. The resolution of these sources matches the resolution of the Screen Display output, and more specifically, the sizes of the text layers defined in the current theme.
Here is an example of the ZionWorx Text Body source being shown in NDI Studio Monitor. Notice the transparent background area and semi-transparent pixels of the text shadow. This is possible because the source includes an alpha channel.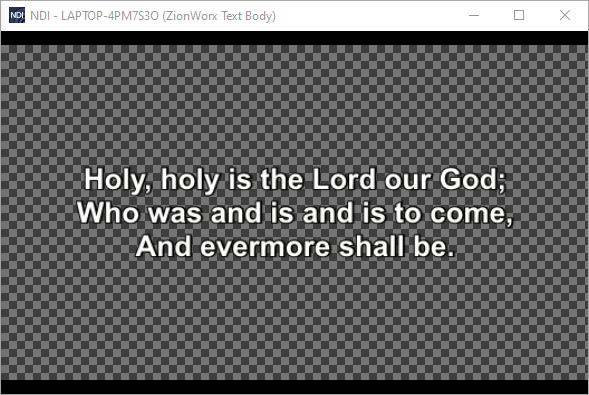 Using the NDI Outputs
How you use these NDI outputs in other software/hardware is entirely up to you. Typically the Network Stream might be used to drive another physical display somewhere else in the building, or to send the whole output to some other streaming software. The Text Overlays are typically used to composite with other sources, for example to add 'lower thirds' lyrics on top of a camera feed in some other streaming software, such as OBS or vMix.